Burial Choice
At Llanelli District Cemetery we provide several types of graves termed as, lawn, traditional and woodland.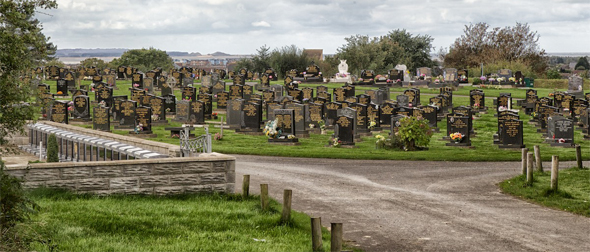 We pride ourselves on providing a range of choices at the cemetery and it's essential to consider what the priorities are for you and your family, so before you make any decisions you may wish to visit the cemetery. The staff will be pleased to assist and accompany you in viewing and discussing any of the options.
If you've decided on cremation, all the grave types are available for the burial of cremated remains following the cremation service. The cemetery provides a number of different remembrance gardens specifically designed for burial or scattering of cremated remains.
Please note it is not permitted to scatter or bury cremated remains anywhere in the cemetery grounds without authorisation from LRC Burial Services.
The burial areas throughout the cemetery grounds predominantly face East, maintaining Christian traditions that prevailed when the area was first used for burial in the 1800's. We  have also provided an area specifically for Muslim burial were the graves are laid out abiding to the cultural beliefs of the Muslim faith.
Useful Documents